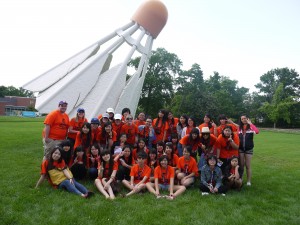 One of the long-lasting and meaningful international partnerships of Truman State University is that which it has with Zen Del High School in Chunghua, Taiwan.  For years, Zen Del has sent students to Truman for a five-week summer language and culture immersion program on Truman's campus.
台湾彰化正德高中和杜鲁门州立大学有着意味深久的国际合作关系。几年来,正德高中每年暑期都送学生到杜鲁门州立大学的校园来五个星期专心于语言和文化的学习。
We call it:  Taiwan at Truman.  我们称它: 台湾在杜鲁门
Students spend most of their day Monday-Friday, studying the English language in engaging exercises with one or more Truman faculty members and supporting preceptors drawn from the Truman student body.  In the evening and on weekends, students are involved in exciting activities that enable them to meet everyday Americans, visit historical and cultural sites, and even do some shopping.
从星期一到星期五学生大部分的时间都花在与一到两位的杜鲁门大学的老师和杜鲁门学生组成的助教学习英语。 晚上和周末, 学生会参与非常有趣的活动,这些活动会让学生认识当地的美国老百姓,参观历史文物和文化景点, 还去逛商场。
Students visit Truman in alternating single-gender groups – male one year, female the next.  A wonderful group of 34 young women visited Truman in the summer of 2013.  A group of 15-20 young men is expected in 2014.
一个男生或女生的团体轮流到访杜鲁门,在2013年一个有34位的美好女生团来杜鲁门访问了。2014年期待一个有15 到20 位的男生团来访。
Places to Visit 访问的地方
Among the interesting sites visited by students during the 2014 Taiwan at Truman students can expect to visit in 2014 are:
2014 年从台湾来杜鲁门的学生可期待去的景点是:
English Professor – Professor Ron Manning 
英文教授—Ron Manning 教授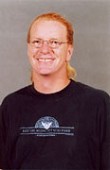 Professor Manning attended Idaho State University and graduated with a Bachelor of Arts degree in French and Political Science. During his Junior year he studied abroad in Strasbourg, France at the Université de Strasbourg.  In 1986 he enrolled at Louisiana State University in a Ph.D. program in Foreign Language Education. He taught French as a Teaching Assistant during his graduate studies and in 1987 he received a fellowship to study in Aix-en Provence, France.
Manning教授毕业于爱达荷州立大学,法文和政治学的学士学位。在他大学三年级的时候,到法国的大学Université de Strasbourg留学。 1986年他在路易斯安那州立大学外文教学博士班注册。他在研究院念书时是法文助教, 1987年他得到法国Aix-en 省研究员的职位。
In 1991 he moved to Kirksville, Missouri and started work as an Assistant Professor of French and Director of the Foreign Language Learning Center, the technology based lab at Truman State University. During the past 10 years he has lived here expanding the facilities, training faculty on the use of technology in foreign language learning and teaching French courses.
1991 年他搬到密苏里州科克斯维尔市,在杜鲁门州立大学开始工作, 他是法文的助理教授和外语学习视听中心主任。 在过去的十年, 他扩大了外语视听中心的设备, 训练老师怎么用设备,同时教法文课。
Professor Manning has worked for many years leading the English as a Second Language summer program, Taiwan at Truman.
Manning教授多年来领导英文是第二语言的英文暑期班-台湾在杜鲁门
His interests outside of academia include playing the guitar and skydiving.
除了教学以外, 他的兴趣是弹吉他和特技跳伞。
Anticipated arrival date in the United States:  June 10, 2014; 6/10/2014 到美国
Anticipated departure date from the United States:  July 14, 2014; 7/14/2014离美国
Typically Daily Schedule 
一般的日程表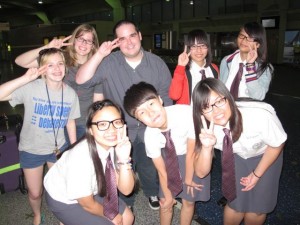 0700-0900:  Breakfast and Free Time 早餐
0900-1200:  Morning Class 晨课
1200-1300:  Lunch 午餐
1300-1600:  Afternoon Class 下午课
1630-1800:  Dinner and Free Time 晚餐
1930-2130:  Evening Activities 晚间活动
2130-2:00:  Hall Meeting 大厅集合
2215:  Curfew 晚钟
2300:  Lights Out 熄灯
Classes do not meet on weekends. Instead, Friday evening, Saturday, and Sunday are reserved for trips off campus and out of town, as well as organized activities.
周末不上课。星期五晚上, 星期六和星期天是校外和城外的旅游时间, 也是参加事先安排好的活动的时间。
Housing 住宿
While on the Truman State University campus students will reside in Missouri Hall.  Each student will share a room with one other student.  Common bathrooms are shared by students in several adjacent rooms.  Students are house only in hallways containing students of the same gender.  Each student has their own bed, desk, dresser, and closet.  Students are provided with a set of bed sheets, towel, wash cloth, and pillow.  Linens are exchanged once per week.  Laundry facilities are available to both clean and dry clothes at no extra charge.  When traveling, students stay in quality hotels.
在杜鲁门州立大学期间, 学生住在Missouri Hall. 两个学生一间房, 几间毗连的房间共用一间洗手间。 男女住在不同的层楼。 每个学生有自己的床,书桌,衣柜和衣橱。学校供应床单,毛巾和枕头。一个星期换一次。 洗衣和烘干衣服都不另外收费。旅游的时候学生住在有质量的旅馆中。
Meals 餐饮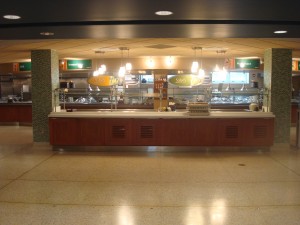 While on campus, participants in the Taiwan at Truman program eat at Ryle Hall Cafeteria.  This recently-renovated cafeteria serves a wide variety of foods and has been very popular among Taiwan at Truman students in past years.  Selections range from traditional favorites, such as pizza and hamburgers, to specialty meals such as stir fry, pasta, and sandwiches.  A salad bar, ice cream bar, and desserts are available every day.  Students may return to the line as many times as they wish to replenish their plates.  Three meals are served each day, except on Sunday.  On Sundays, two meals are served.  Taiwan at Truman will arrange catering for the evening meal on Sundays.  Students will also experience a number of popular restaurants while traveling off campus, including traditional Kansas City Barbeque, Italian pasta, and Mongolian Barbeque, among other favorites.
在学校, 学生在Ryle Hall的食堂吃饭。 过去几年台湾的学生对这个供应多种不同食物的新装修食堂 非常喜欢。食堂供应从传统餐像披萨,汉堡到特别餐像炒菜,意大利面和三明治。每天都有沙拉吧,冰淇淋和甜点。吃饱为止。除了星期天以外,每天供应三餐。星期天, 学校只供应早午两餐,晚餐由学生自叫外卖,校外旅游时学生可以到餐厅 吃堪萨斯的传统烤肉,意大利面,和蒙古烤肉等。
Shopping 购物
While learning is the primary goal of students' visit, ample opportunities will be made available for students to shop retail centers in Kansas City, St. Louis, and Columbia, Missouri.  Students will also have occasional opportunities to visit discount chains in Kirksville (such as Wal Mart) to replenish supplies of snacks and other dorm foods.
尽管学习是学生访问的主要目的,但也有很多机会去逛逛密苏里州的堪萨斯市,圣路易斯市和哥伦比亚市的购物中心。学生偶尔也会有机会到城里的平价连锁商店 (像沃尔玛)补充一些在宿舍吃的零食,小吃或其他的东西。
Looking for More Information 咨询
Detailed travel information for students and parents will be posted on this site in May, prior to students' planned departure date.
在学生计划出发之前,旅行的细节讯息五月会 在此网页上公布。
Is Your School Interested? 你的学校对此项目有兴趣吗?
Other schools interested in scheduling similar intensive language programs should contact the Truman Institute at institute@truman.edu or kminch@truman.edu.
如果你的学校对这个英语加强项目有兴趣, 请跟Truman Institute at institute@truman.edu or kminch@truman.edu 联络